'Teenager at centre of 12-man sex ring', court hears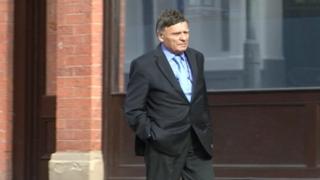 A boy was "pimped out" on the streets of a red light district in Birmingham as part of a child prostitution ring involving 12 men, a court has heard.
The 14-year-old was exposed to sex, drugs and violence when the offences allegedly began in 2009, while he was in the care of social services.
Warwick Crown Court heard he was subjected to "horrifying behaviour".
Twelve men, aged between 25 and 78, from Coventry, Staffordshire, West Midlands and London, deny 80 charges.
Updates on this story and more from Birmingham and the Black Country
Prosecutor Rosina Cottage QC told the court, sitting at Leamington Spa, what happened led the boy into a "chaotic lifestyle".
She described him as a vulnerable youngster from a troubled background who had absconded from a care home in the East Midlands for a number of days.
Ms Cottage said the boy was alleged to have been sold "like goods" in the Kent Street area of Birmingham, and described in interviews with police "waiting on the street (with one of the defendants) for men, for business, for money for drugs".
Offences the men face include arranging and facilitating child prostitution, rape and other multiple serious sexual assaults.
Ms Cottage said the alleged offences against the boy were not fully investigated by West Midlands Police when first reported in 2009-10, something she described as "regrettable".
The trial, which is set to last 12 weeks, follows a reopening of the inquiry in 2012 when the claimant, now in his early 20s, was able to alert police to the whereabouts of some of those allegedly involved.
One defendant, Ronald Potter, 78, of Tippers Lane, Fillongley in Coventry, a former special constable with Warwickshire Police, is also accused of indecently assaulting a 15-year-old boy between November 2001 and June 2002.
The defendants:
Stephen Kelly, Elm Road, Birmingham
Peter Joynes, Canberra Way, Birmingham
Darren Clegg, Hillside Drive, Great Barr, Birmingham
Peter Lowe, Salisbury Close, Birmingham
Ronald Potter, Tippers Lane, Fillongley, Coventry
Ian Prestleton, High Hadden Road, Sandwell
Alan Priest, Bristnall Hall Lane, Oldbury
Ashley Sherrington, Dawlish Drive, Stoke-on-Trent
Michael Godbold, Uxbridge Road, Shepherds Bush, west London
Tahir Hussain, St Josephs Road, Birmingham
Kevin Tudor, HMP Watton
Robert Bailey, Watt Road, Erdington