Missing backpacker Grace Taylor found in Thailand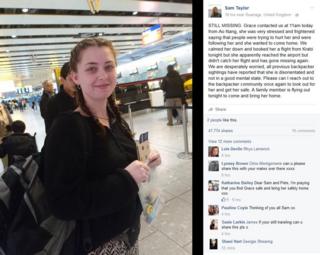 A British backpacker has been found after going missing in Thailand, police have said.
Grace Taylor, 21, from Swanage, was located at Krabi airport and was being cared for by an officer from the tourist police, Dorset Police said.
She was reported missing after she had not contacted her family in five days, her mother Sam Taylor posted on Facebook on Monday.
A later post said she was "stressed and frightened" at the airport.
Following the police confirmation, Sam Taylor posted on Facebook: "Our Gracie has been found, we don't as yet know what has happened.
"We are working to get her home safely."
Ms Taylor had been reported missing to Dorset Police after not being in touch since her last contact from a hostel in Pattaya on 16 February.
Her mother's Facebook post went viral and sparked a global social media campaign to locate her.
She also appealed to backpackers in Thailand for information.
Late on Monday, she wrote on Facebook that her daughter had contacted family from Ao Nang. They booked her a flight home, although her mother said she did not board the plane.
Dorset Police said it had been contacted by Interpol to confirm Ms Taylor had been found and that arrangements were being made to bring Grace back to the UK.