Bogus help centres spark Pakistan ID card fraud warning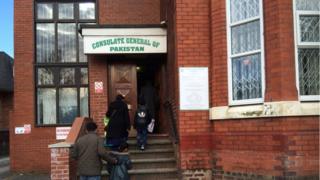 Fraudulent UK help centres are charging hundreds of pounds for fake identity cards for visa-free travel to Pakistan.
National Identity Cards for Overseas Pakistanis (NICOP) were launched in 2012 to simplify travel. Online applications opened in August 2015.
Self-styled advice bureaux - some run from homes - have since opened, charging for help to submit web forms.
But some are not authorised and put people at risk of identity fraud, the High Commission of Pakistan has warned.
Anyone fraudulently using logos belonging to the Government of Pakistan will be prosecuted and the High Commission will not be responsible any money lost or information stolen from applicants, it warned.
The benefits of NICOP cards include visa-free entry into Pakistan, official citizenship and the right to open a bank account and buy or sell property.
One woman told BBC Asian Network they lost £300 when they used a fake advisor.
They had to travel to consulates in Birmingham and Manchester to get real ID cards.
She said: "We heard that a man in the community was offering the service; we thought he was something to do with consulate.
"He applied for our cards online but, when they arrived, one had the wrong name on it, another the wrong address and one stated the person lived in the United States."
She said they paid £90 for each card and were told it would cost £100 per card to have the details amended.
Another advice session was closed down by authorities after a businessman advertised the service at a mosque in Greater Manchester.
Consul General of Pakistan in Manchester, Zahoor Ahmad, said: "The Consulate does not hold surgeries in private places and had not authorised it."
There are around 1.17 million Pakistanis living in the UK and around 3,500 NICOP applications are processed each week.
You can hear more on BBC Asian Network Report at 1pm & 5pm