Campaigners protest at Horse Hill oil drill site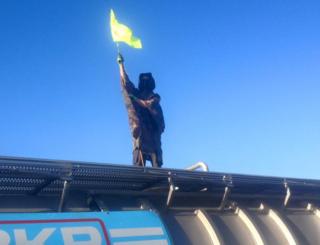 Anti-fracking protesters have gathered outside a site in Surrey where an oil company is starting test drilling.
About 13 people were at the Horse Hill site near Gatwick Airport trying to obstruct vehicles entering and leaving, police said.
UK Oil and Gas Investments (UKOG) said it does not intend to use the fracking technique to extract oil from the site.
Surrey Police said they were monitoring the demonstration but would not stop a peaceful protest.
A spokesman said: "Surrey Police will always facilitate peaceful protest and will only take action if activity at the site causes a breach of the peace or results in a public order offence."
He said anyone obstructing the highway would be issued with verbal warnings and could face arrest.
"Surrey Police takes a balanced approach and arresting an individual will always be a last resort," he said.
Julie Wassmer, from East Kent Against Fracking, said: "Local people are driving by, thanking those involved, because they do not want 120 lorries a day disrupting their journeys.
"This action is symbolic of Horse Hill's united opposition to UKOG."
Earlier this month, anti-fracking protesters set up camp close to the site for a second time.
UKOG says there could be up to 124 billion barrels of oil under the Weald Basin.