Match.com user Jason Lawrance 'raped women he met on website'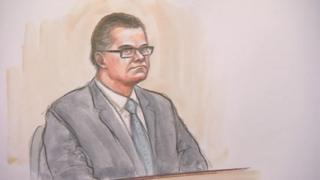 A man raped five women and attacked two more after meeting them on internet dating site match.com, a court heard.
Jason Lawrance, 50, of Liphook, Hampshire, used two profiles on the website to meet the seven women in Derbyshire, Lincolnshire, Cambridgeshire and Northamptonshire.
Derby Crown Court heard he raped one victim in her own home, one a hotel and another in his van.
Mr Lawrance denies rape, attempted rape and sexual assault.
The court heard Mr Lawrance used his profiles keepitstraighttoday and straightmanlooking on match.com but was keen to talk to women offline.
Shaun Smith QC, prosecuting, told the jury: "We suggest that's because he was keen to engineer a situation where he persuaded women to make contact with him privately by phone or text message or email so he was not being watched by the match.com website."
The court heard Mr Lawrance had consensual sex at a woman's house in Buxton, Derbyshire, in November 2013 but the following day raped her despite her "screaming hysterically".
He then sent her a text message reading: "When you were crying out for me to stop I couldn't, I'm so mad at myself xxx" and another saying "I was disgusted with myself for hurting you. I am so sorry. I am too rough for you xxx xx".
In June 2011, another woman was driven down a remote country lane near Crick, Northamptonshire, and he tried to convince her to get in the back of his van to see bunk beds he had made for his children.
There she was raped "despite the fact she was crying and asking him to stop", Mr Smith said.
The woman's police interview was played to the court.
'Let me go'
"I thought I was not going to see my kids again," she told police.
"I remember thinking I was never going to get out of here.
"I was just crying and saying 'Let me go, you don't want to do this, let me go home now', but he did not listen.
"He was just hell bent, going to do what he came to do."
The court heard that, following the first complaint made in Derbyshire, detectives uncovered a string of women Mr Lawrance was believed to have attacked over several years.
Mr Smith said: "As a result of police checks whilst he was in custody, a rather disturbing picture emerged about the defendant's relationship with women, in particular women with whom he had made contact on match.com."
The trial is expected to last two weeks.