Junior doctor claims he ran Birmingham cancer ward alone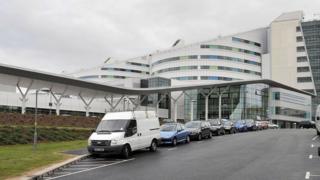 A junior doctor's claim he single-handedly cared for 100 cancer patients has been shared 30,000 times on Facebook.
Rich Bowman, 27, wrote: "Last night, I ran the oncology service for the whole south Birmingham region."
But Birmingham's QE Hospital strongly refuted the claim, stating there was "a whole host of both clinical and senior managers on site".
The British Medical Association said it could not comment on individual cases.
Dr Bowman's post told health secretary Jeremy Hunt he had "picked a fight with the wrong crowd" over plans to force new contracts on thousand of junior doctors in England.
More on this story and updates from Birmingham & Black Country
He wrote: "Last night I was the sole doctor on site caring for over 100 patients who were acutely unwell with complications from their cancer.
"Some couldn't breathe, some were fighting overwhelming infections with literally no immune system, one had bleeding in their head, one had a blockage in their bowels."
Junior doctors row: The dispute explained
Dr Bowman continued: "If I made a mistake because I was tired, any one of these patients could've died.
"Every cancer patient in the south Birmingham region has a direct line to call for advice or help. 11 new unwell patients arrived and I assessed and treated them too.
"There was not a single manager in the whole hospital."
'Strenuously denied'
Dr Bowman said he works "60 hours a week", adding, "for the 48 that I'm paid for, I earn £18 [per] hour".
University Hospitals Birmingham NHS Foundation Trust said it "strenuously denied" the doctor's claims.
A spokeswoman said on the night in question a senior registrar was on site until 00:30 GMT and on call afterwards, alongside an on-call consultant oncologist.
There was a hospital night team - a clinical team on site including a site manager and senior nurses, she said.
The hospital's 24/7 operations team comprising senior managers in charge of the overall care of patients was also working, she said.
The direct line Dr Bowman wrote of was a phone line managed by senior nurses not junior doctors, said the spokeswoman.
The BBC has asked the Department of Health for a comment.