Northumbria and Cleveland forces 'require improvement'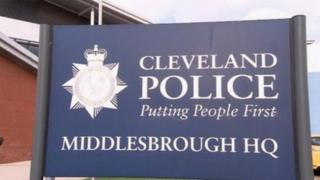 Two police forces in the north-east of England "require improvement", an official watchdog has said.
HM Inspectorate of Constabulary (HMIC) published a report into the fairness and ethics of all 43 police forces in England and Wales.
The inspection found two-thirds of Cleveland's stop and search records did not have "reasonable grounds" recorded.
Northumbria was required to do more to "understand the impact" of searches on members of ethnic communities.
The watchdog examined 100 stop and search records in each of the police forces in the 12 months up to March 2015 and found that some 15% nationally did not have reasonable grounds recorded, as required by law.
Only 11 out of the 43 forces were fully complying with guidance in a scheme launched by the Home Secretary Theresa May.
'Good progress'
The report found Cleveland Police was compliant with all aspects of the scheme except for publishing data.
However, there were concerns forms had been "unacceptably" assessed by a supervisor.
The watchdog recognised the force had made "considerable improvements" to its stop and search processes since the inspection and the processes for dealing with complaints and misconduct were "fair and free from bias".
Dep Ch Con Simon Nickless said: "This report reflects on the fact that we are a police force that is moving forward, is ethical and understands the importance of engaging with our communities, however we recognise there is more to do."
Cleveland and Northumbria were among five forces, including Dyfed-Powys, West Mercia and Warwickshire which were graded as "requires improvement".
Some 37 out of the 43 police forces, including Durham Constabulary, were rated as "good", while Kent Police achieved an "outstanding" grade.
The inspection found Northumbria was not compliant with the stop and search scheme was not compliant with the stop and search scheme.
HMIC said the force should do more to understand the impact of searches on members of black, Asian and ethnic communities and young people.
Chief Constable Steve Ashman said: "We have already taken active steps to ensure we become fully compliant with HMIC recommendations and are now seeking to make further improvements."