Duchess of Cambridge joins Air Cadets for 75th anniversary service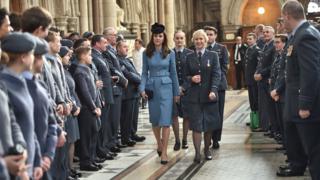 The Duchess of Cambridge has made her first appearance as royal patron of the RAF Air Cadets for a 75th anniversary service in London.
The event, at the RAF church of St Clement Danes, saw 500 cadets, veterans and volunteers take part in a thanksgiving service.
The duchess became Honorary Air Commandant in December, taking over from the Duke Edinburgh who had the role for 60 years.
There are 42,000 air cadets in the UK.
In the congregation was TV personality Carol Vorderman, who is an honorary ambassador for the Air Cadets and whose daughter Katie is a cadet.
She said it was "fantastic" the duchess had become the royal patron as it would help attract more women.
"She obviously has a great appreciation of the military and enthusiasm for youth", she said.
The RAF Air Cadets comprise of the Air Training Corps (ATC) and the Combined Cadet Force (RAF).
The ATC was first established during World War Two to train young men in aviation skills before they joined the RAF.