PC sacked by West Midlands Police over theft from shops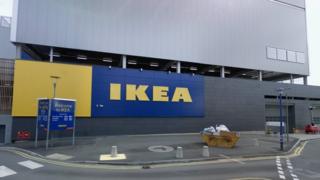 A police officer who stole £90 of groceries and a bathroom cabinet worth £30 after calling in sick has been sacked.
A West Midlands Police misconduct panel heard Gemma Talbot, 31, took the items from Ikea in Coventry and Asda in Chelmsley Wood in October.
She was convicted of two counts of theft in November.
Ms Talbot asked to keep her job, but was sacked for "serious gross misconduct".
More on this story and others from Birmingham and Black Country
The panel heard that Ms Talbot, a single mother from Birmingham, who had served with the force since 2006, had been looking after her unwell mother at the time of the offences.
Though not present at the hearing, in a letter she said she was embarrassed by her "completely inexplicable" behaviour.
"I have always had an excellent work ethic. I am a genuinely good person and I have let the organisation down," she said.
"This type of incident will never happen again, of that you can be certain."
Mr Thompson accepted Ms Talbot's personal circumstances at the time of the offending were difficult, but dismissed her from her position.
"Matters of dishonesty cut to the very heart of the role of a police officer. They profoundly undermine public trust," he said.