Ex-reservoir auction for 'Grand Design home project'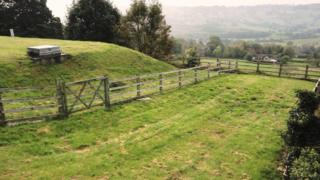 Former reservoirs, which could be converted into a "Grand Design" style home, are to be auctioned.
The five redundant reservoirs, in Derbyshire, Worcestershire and Shropshire, go under the hammer on 11 February on behalf of Severn Trent Water.
Auctioneers said the sites offered "extensive views" had "strong potential for innovative conversion".
Guide prices for the plots are between £10,000 and £25,000.
The old reservoirs, in Derby, Matlock and Melbourne, in Derbyshire, Broseley in Shropshire, and Kempsey, in Worcestershire have been described as having "an earth covered, above ground redundant reservoir constructed of reinforced concrete".
Oliver Childs, of Lambert Smith Hampton, said the uses for the rural locations, which are not on green belt land, could include "grand design style conversion to residential or holiday accommodation".
"These were tanks built into and on top of the land with grass over them so they didn't protrude aesthetically into the countryside," he said.
"They have been redundant for a number of years and sites like this carry an on-going risk in terms of security.
"These types of reservoirs come up for auction a couple of times a year - so not unheard of but far from common."
Mr Childs added that interest in the reservoirs has come from as far away as Hong Kong and most hope to develop the sites for housing.
"They are looking to build something a bit quirky and perhaps use technology and eco-friendly building techniques to create a visionary home on a site that requires a sympathetic approach," he said.
The size of the plots up for auction range from about 0.20 acres (0.08ha) to 0.51 (0.21ha).