Who were the Deepcut four?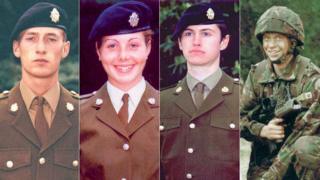 Between 1995 and 2002, four young Army recruits died from gunshot wounds in unexplained circumstances at Deepcut barracks in Surrey.
The Army insisted the deaths were all suicides, but all the families disagreed. Inquests at the time returned three open verdicts and one of suicide.
Calls for an inquiry came as early as 2002, and a police investigation followed along with a review of Army training procedures.
But allegations of bullying and harassment continued following a leaked police report, and, in 2004, the government announced a review by Nicholas Blake QC, who concluded the four deaths were probably self-inflicted.
Independent ballistics expert Frank Swann, who investigated the deaths initially for the police and later the families, had said he thought it was "highly unlikely" many of the fatal bullets were fired by the recruits themselves.
But he did not give evidence to the Blake review, and later came under fire amid claims he gave more information to the media than the official investigation.
Over the years, families of the soldiers continued their campaigns, and recently fresh inquests have been ordered into the deaths of three of the soldiers Pte Cheryl James, Pte Sean Benton and Pte Geoff Gray.
The family of the fourth soldier - Pte James Collinson - have also continued to call for an inquiry.
A fresh inquest into the death of Pte Benton began in January in Woking. Coroner Judge Peter Rook QC delivered his conclusions on Wednesday.
So who were the Deepcut four?
Sean Benton, 20, from Hastings in East Sussex
Pte Benton was the first to die. He was found with five gunshot wounds in June 1995 while on guard at a perimeter fence.
A BBC Panorama investigation claimed that one night Mr Benton was attacked by a gang wearing gas masks as he slept.
On another occasion, the programme said, he was thrown through a window after falling out of favour with a sergeant for answering back.
Did he kill himself? The Army said so, and an inquest concurred.
A friend of Pte Benton, Trevor Hunter, said the recruit had been the target of "vicious verbal attacks and humiliating abuse" which drove him to take his own life.
"He was an easy target because he had a croaky voice, he spoke his mind and his kit was a mess," Mr Hunter said.
Frank Swann said it was impossible for Pte Benton to have killed himself, suggesting he had been shot four times from a distance and only once from close range.
However, there were two witnesses to Pte Benton's death and both soldiers gave evidence to the Blake review of what they saw happen.
A second inquest was ordered after a campaign by the family for a full investigation amid allegations he suffered prolonged bullying.
The fresh inquest has heard claims the recruit was "constantly punished", assaulted and bullied, and at one stage "shackled", but former barracks staff have said they would have known if there was mistreatment.
It heard evidence from more than 170 witnesses since beginning in January.
Delivering his ruling at Woking Coroner's Court, Judge Peter Rook QC recorded a formal conclusion of suicide.
Cheryl James, 18, from Llangollen, in north Wales
Pte James was found dead with a bullet through her forehead in woodland outside the barracks in November 1995.
Did she kill herself? The Army said she did, but a first inquest in December 1995 recorded an open verdict.
That verdict was quashed by the High Court and a second inquest was held in 2016, when coroner Brian Barker QC ruled her death was suicide.
He said the wound was "self-inflicted" and Pte James fired the gun intentionally.
The coroner also said there was a "sexualised" atmosphere at the barracks and there were far too few officers to train and look after the young squaddies, who were bored and undisciplined.
When he gave his findings, Mr Barker praised the Blake review as "meticulous".
Pte James's father, Des James, who had believed his daughter suffered sexual harassment and violence at Deepcut, said the family was "deeply saddened" by the conclusions of the inquest.
Geoff Gray, 17, from Seaham, County Durham
Pte Gray was found with two gunshot wounds to his head while on guard duty in 2001.
The Army said he killed himself but, once again, an inquest returned an open verdict. Some aspects of his death seem mysterious, including reports that a figure was seen running away from the area and suggestions his body was moved shortly after his death.
Frank Swann said it was "highly unlikely" Pte Gray had killed himself.
Pte Gray's parents, Geoff and Diane, believed he loved life in the Army and did not think he took his own life.
They said: "He had no girl problems, no money worries and, in fact, he could not have been at a better time in his life."
The Grays consistently pushed for a public inquiry into the Deepcut deaths and also for a new inquest for their son.
Mr Gray said: "There's an awful lot of young soldiers being killed in various circumstances and I believe that an awful lot of those soldiers' deaths have not been investigated correctly.
"I think the Army has had a blasé attitude towards young soldiers - you're in the Army, you're nothing but a number, but as soon as you're dead that number is scratched out straight away."
Last year, the soldier's family won a High Court action demanding a fresh inquest.
James Collinson, 17, from Perth
Pte Collinson was found with a single gunshot wound through his chin while on guard duty in 2002.
Once again, the Army said he had killed himself and an inquest returned an open verdict. His parents insisted he was a happy, cheerful young man, full of pride at being a soldier and making plans for his future, and had no reason to take his life.
Frank Swann said it was "unlikely" bullet wounds to the underside of Pte Collinson's chin and head were self-inflicted, but it was possible they were the result of an accident.
Pte Collinson's mother, Yvonne Heath, said: "I don't believe that my son pulled that trigger but at the same point I don't believe anyone wished him dead. I think in the regime at Deepcut at the time there was very little supervision. I think some silly prank went terribly wrong."
Over the years, Ms Heath has made calls for a public inquiry into Deepcut.
The human rights group Liberty has said it is examining the evidence in Pte Collinson's case.
It said information disclosed to the family by the authorities had far exceeded that which was provided at the original inquest.
Liberty said work was ongoing with the objective of securing a fresh inquest.
Key dates in the case:
April 1993: The Royal Barracks, Deepcut, an Army base since around 1900, becomes the home of the newly formed Royal Logistic Corps, offering training for young soldiers
June 1995: Sean Benton is found dead
The inquest into Pte Benton's death records a verdict of suicide
November 1995: Cheryl James is found dead
December 1995: The inquest into Pte James's death records an open verdict
September 2001: Geoff Gray is found dead
March 19 2002: The inquest into Pte Gray's death records an open verdict
March 2002: James Collinson is found dead
April 2002: Surrey Police opens a joint investigation into the deaths of Pte Gray and Pte Collinson. The force later confirms it is also reviewing the deaths of Pte James and Pte Benton
June 2002: The families of the four soldiers call for a public inquiry
October 2002: The body of Pte Collinson is exhumed. A forensic pathologist carries out a second post-mortem examination to try to establish how he died
September 2003: Surrey Police concludes there are no grounds for prosecutions over the deaths of the four young soldiers
May 2004: The government rejects calls for a public inquiry into the soldiers' deaths but announces an "independent" inspection regime into armed forces training
October 2004: New allegations of gang rape, systematic bullying and sexual harassment at Deepcut are disclosed in a leaked police report. The government announces a new review of allegations of abuse and bullying at Deepcut but stops short of the full public inquiry demanded by families and MPs. Nicholas Blake QC is later chosen to lead the review
March 2006: The inquest jury looking into the death of Pte Collinson returns an open verdict
March 2006: The Blake Review criticises Army training, citing "harassment, discrimination and oppressive behaviour", but concludes that the deaths were probably self-inflicted
May 2009: The government again rejects calls for a public inquiry
March 2011: A review by Devon and Cornwall Police found Surrey Police failed to investigate fully a potential suspect, known as the "unknown white male", in the death of Pte James
January 2012: The family of Pte Collinson renew calls for a public inquiry on the 10-year anniversary of the soldier's death
March 2014: The Attorney General grants Pte James's family consent to apply to the High Court for a new inquest into her death
July 2014: High Court judges order a fresh inquest into the death of Pte James
September 2015: A pre-inquest review hears the body of Pte James was exhumed and reburied the previous month and bullet fragments from the body were undergoing further testing
June 2016: At the end of a second inquest into Pte James's death, coroner Brian Barker QC rules the gunshot wound to her head was self-inflicted and intentional, and her death was suicide
October 2016: A High Court judge rules a fresh inquest can take place into the death of Pte Benton
November 2017: The family of Pte Gray win High Court action for a fresh inquest
January 2018: A fresh inquest begins at Woking Coroner's Court into the death of Pte Benton