Leamington Spa drink-driver jailed for killing three people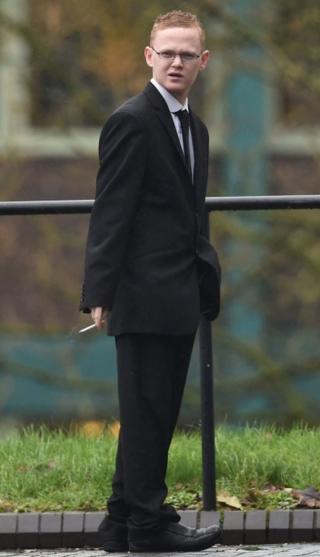 An uninsured drink-driver who killed three passengers by crashing his unroadworthy car has been jailed for nine years.
Jamie Riddick was almost double the legal alcohol limit and driving a car with no MoT and defective brakes, Coventry Crown Court heard.
Nathan Rhodes, 23, Ryan Case, 25, and Emily Jennings, 27, died almost instantly in Leamington Spa last year.
Riddick, 21, admitted three counts of causing death by dangerous driving.
His Citroen Saxo - an insurance write-off bought for just £375 - careered off Radford Road on 20 June last year.
Riddick, a pub worker from Park Piece in Kineton, Warwickshire, offered to give the three friends and another man a lift outside a nightclub in the early hours.
After "cutting a corner" and hitting a tree, Riddick, who was saved by an airbag, told police he had not been behind the wheel, the court heard.
Vehicle examiners found Riddick was driving the overloaded Saxo with an insecure battery, under-inflated tyres and a brake drum that was so badly worn metal was "grinding" against metal.
Recorder Helen Mountfield QC was told Riddick had gone out drinking after a fight with his girlfriend, which left her with a black eye.
Riddick, who showed no emotion in the dock as relatives of the victims read out personal impact statements, was banned from driving for 12 years.
Mr Case's mother Hazel said: "My beautiful, loving, caring son has been so tragically taken from me and I will never get the chance to hold him in my arms again.
"Ryan was such a caring and loving son, a devoted daddy and great friend to so many people."
The mother of Mr Rhodes, Barbara Hatcher, told the judge: "Nathan lived life to the full, always living for every experience.
"I know if you asked anyone who knew him that he was loved, trusted and respected by all."
Mr Rhodes, a carpenter, was also remembered as a talented darts player and football coach.
Gillian Jennings told the court: "Emily was a truly beautiful girl, not only to look at, but inside too.
"The tears still flow and always will as I miss her so much. "If only people would stop and think before drinking and driving."