Syrian refugees: Birmingham welcomes new group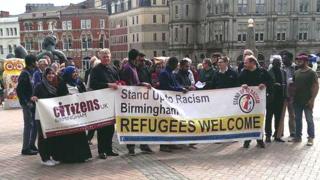 A group of 19 Syrian refugees has arrived in Birmingham under a scheme to help the most vulnerable people.
The families and individuals arrived on Wednesday, following nine refugees who travelled to Birmingham before Christmas.
The city will take 50 refugees from camps in Turkey and Lebanon under a United Nations and Home Office-backed scheme - with 22 still to arrive.
Two charities are gathering essentials for those who arrive with nothing.
Shaz Manir, chief executive, of Amirah Foundation, said: "They all receive a welcome pack from us on arrival.
"I think they will just be extremely tired. These are UN-designated refugees so they are not having to do the journey across Europe in these images we've seen.
"It's a welcome from the British state and an invitation to come here."
The prime minister has pledged to take 20,000 Syrians from camps by 2020.
About the Syrian Vulnerable Persons Relocation Scheme (VPR)
It prioritises people requiring urgent medical treatment, survivors of torture and violence, and women and children at risk
All applicants are subject to immigration checks and screening before a visa is granted
Those with a criminal past or links to war crimes or extremism are excluded
Those accepted are given leave to remain for five years with full access to employment and public funds
At the end of five years if they have not been able to return to Syria, they may be eligible to apply for settlement in the UK
Source: UK Home Office
"It's still going to be a very long and difficult journey," she said.
"There's going to be lots of emotions - what they've been through, what they're leaving behind and coming to the unknown - but with a hope for a better life for them and their children."
Birmingham city councillor Waseem Zaffar said: "It's an incredible day for the city of Birmingham as we welcome a new group of Brummies, who have come from a very difficult circumstances, but who are being welcomed with open arms by the vast majority of citizens.
"I've always said 50 is a good start, but we need to ensure that increases over time because I've been out in Calais and seen the need to support those most vulnerable individuals."
---
Analysis by Kathryn Stanczyszyn, BBC WM political reporter
Birmingham City Council's former leader, Sir Albert Bore, agreed early last year that the city would be among others across the country helping to re-home Syrian refugees from UN-designated camps.
The measure was officially backed in the autumn after growing pressure from campaigners and some councillors. The promise was to take in 50 refugees from camps in Turkey and Lebanon under a United Nations and Home Office-backed scheme.
Not everyone is positive about the idea, though - some residents I've spoken to say if refugees arrived in greater numbers, resources could become stretched - in a city that a report said just this week has low wages and high welfare bills.
The charity Refugee Action is leading the relocations, but there are several local partner charities also working to support these new Birmingham citizens - by providing practical and emotional support, as well as funding for training and education.
The first nine refugees arrived before Christmas - a family of four, a couple and three individuals.
---