Tareena Shakil trial: Mother 'fled Syria on foot while clutching son'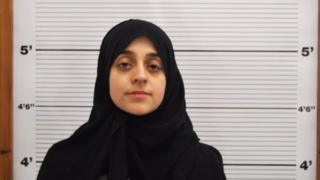 A mother accused of taking her toddler to Syria to join the so-called Islamic State has told a court how she fled the country on foot clutching her son.
Tareena Shakil escaped to Turkey after catching a bus and bribing a taxi driver before running for the border, Birmingham Crown Court was told.
The 26-year-old from Birmingham denies joining the Islamic State group or encouraging acts of terror on Twitter.
Ms Shakil claims she only travelled to Syria to live under Sharia law.
She flew from East Midlands Airport to Turkey on October 20 2014, telling friends she was going on a family beach holiday.
'Ran across fields'
Giving evidence at her trial, the former health worker, of Beechfield Road, Birmingham, told a jury she caught a bus away from the city of Raqqa, where she had been held, under the guise of running an errand.
After reaching the town of Manbij she switched transport to a taxi and asked to be taken to a border town.
"Firstly, he was reluctant to take me and I had to persuade him. I bribed him with money," she told the court.
After passing a series of checkpoints she said she told the driver to stop when they got within a kilometre of the Turkish border.
"I said stop, threw the money at him, grabbed [my son], grabbed the nappies and ran across the fields," she said.
"There were three IS fighters but they had their backs to me. They didn't see me," she added.
When she reached the border all that was stopping her was a low barbed wire fence, she said.
Ms Shakil then handed herself in to the Turkish border patrols and was later arrested after landing at Heathrow airport in February 2015.
The trial continues.