Lord Hanningfield's prison campaign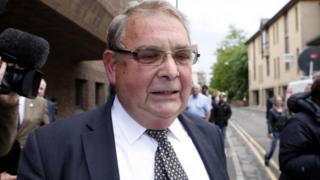 For the last four years Lord Hanningfield has kept a rather low profile at Westminster, perhaps not surprising for someone who has been convicted of fraud and banned from the House of Lords for a year.
Now he's told friends that he wants to champion causes close to his heart and he seems to have found one.
Speaking in the chamber for the first time in several years, he called a debate on the subject of education in prison.
He only spent two months behind bars but during that time Lord Hanningfield appears to have learnt quite a few things about life as a prisoner, including one particularly shocking discovery.
"Hardly anyone had heard of the House of Lords," he told his fellow peers.
"So many people asked me, where it is and what it does. Someone imagined that every Lord has a castle, they asked if they could borrow mine for a rave."
'Quite extraordinary'
Before we go any further we should point out that the former leader of Essex County Council lives in a modest bungalow near Chelmsford; not really rave material.
"Education in prison needs to be brought up the agenda enormously," he said. "I think that all noble Lords are aware that I have been in prison and I will speak a bit about my experience there."
More than 50% of prisoners, he said, were illiterate, he was often asked to read their mail for them. Their general knowledge he said "was non existent" which he found "quite extraordinary".
"If only young people in prison could learn to read and do simple mathematics, that could help them have a career when they get out," he added.
Lord Hanningfield admitted that it had been quite a shock going to prison and he found his initial days very difficult but he said little else about his own personal feelings.
Fellow peers praised him for calling the debate
"It cannot have been easy for him but it is right that (this issue) should be brought to the attention of the public through this House" said Viscount Hailsham.
Lord Hanningfield appeared to look pleased that so many peers had turned out for this late evening debate and agreed with him that more needs to be done.