Ambulance call centre killing claim: CQC finds 111 "safe and effective"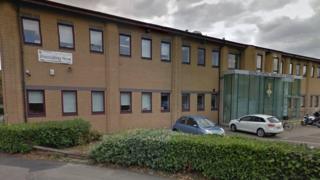 An NHS 111 phone service which was claimed to be failing patients is "safe and effective", a health watchdog has found.
An undercover newspaper journalist recorded a worker at a call centre in Bicester, Oxfordshire, saying staff had all "killed someone indirectly".
The Care Quality Commission (CQC) found South Central Ambulance Service (SCAS) had suitable systems to monitor safety.
The ambulance trust has welcomed the report.
Updates on this story and more from Oxfordshire
Daily Telegraph journalist Lyndsey Telford recorded the call centre worker's comments during a training course after she secured a job at the SCAS call centre.
She was trained to use the service's Pathways computer system, which uses a series of questions to assess the seriousness of the patient's condition.
At one point her mentor said: "One way or another, everyone in this room has killed someone indirectly because of what we've done but we're covered because it's all recorded."
Her report was published in June, prompting an investigation by the CQC investigation.
Its report subsequently found staff were trained and monitored to ensure they used the NHS Pathways computer system safely and effectively.
"The provider had responded promptly to concerns received and had proactively used the information to review systems and processes and further improve service provision," it said.
The CQC recommended improvements to the process of updating staff records which SCAS said had now been put in place.
A statement from the trust said: "SCAS welcomes the report findings which reaffirmed our view that we have some of the most dedicated, committed and passionate staff working for us."
The call centre handles calls from Berkshire, Buckinghamshire, Hampshire and Oxfordshire.