Funding issues halt move of revolving artist studio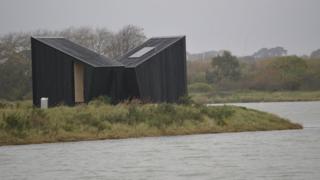 Plans to continue a travelling art studio project have been postponed after funding was turned down by Arts Council England (ACE), its organisers have said.
The Observatory, currently on the Solent shoreline, was due to move to Dorset and Cornwall.
The project, by the New Forest-based Spud charity, sees artists take up residence in the studio for two months.
ACE said funding for projects was "never guaranteed".
The pair of pivoting rooms have been stationed on the Keyhaven Nature Reserve near Lymington since July.
Spud had intended to move them to Burton Bradstock in Dorset, then the Lizard Peninsula in Cornwall in the coming months.
'Hugely disappointing'
The charity's Mark Drury said an application to ACE had been denied.
"This is hugely disappointing news for everyone involved and we are trying to find a solution as quickly as possible," he said.
A spokeswoman at Arts Council England said: "Grants for the arts is an open application programme and there is always strong competition for funds, success is never guaranteed.
"We have already been in talks with Spud about how they could move forwards with this project," she added.
The charity said it planned to reapply for funding to ACE with a revised programme for new locations in Hampshire.
It said the structures would remain in place until April.