David Cameron urges Oxfordshire County Council to avoid cuts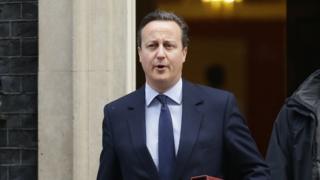 David Cameron has urged the Tory county council in his constituency to "look again" at planned cuts to services.
The prime minister said it would be "challenging", but Oxfordshire County Council must become "more efficient".
He was responding to a letter from the authority's cabinet warning of the "devastating impact" of funding cuts.
It follows an earlier letter from Mr Cameron to council leader Ian Hudspeth, in which he said he was "disappointed" at draft proposals.
But in its letter, the Oxfordshire cabinet said the council had been "badly hit" by the government's new funding formula.
The councillors added the authority now has to make more than £69m of extra savings, including cuts to children's centres.
This is on top of £292m in budget cuts already agreed between 2010 and 2020.
In response, the prime minister said the recent spending review had allowed councils "to streamline their asset base and invest in services".
He said: "We have made it possible for councils to sell property assets and use the capital to invest in transforming local services - and ensure further savings."
Mr Cameron is the MP for Witney, an area covered by Oxfordshire County Council.
In his first letter Mr Hudspeth reminded Mr Cameron he "worked hard to assist you in achieving a Conservative majority".
Labour subsequently wrote to Cabinet Secretary Sir Jeremy Heywood suggesting the prime minister's letter may have breached the ministerial code.