Police delay 'led to train hitting fallen bridge'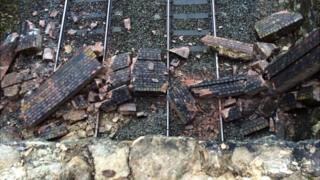 A delay by police in telling Network Rail of a danger on the track led to a high-speed train hitting parts of a fallen bridge, a report has found.
It happened near the Wiltshire-Berkshire border close to the village of Froxfield on 22 February last year.
A Rail Accident Investigation Branch (RAIB) report found it could have been avoided if details of a 999 call had been passed directly to Network Rail.
Thames Valley Police said call-handling procedures had been updated.
None of the 750 passengers was injured but rail services were disrupted.
The bridge parapet was knocked on to the tracks when a lorry reversed into it, leaving about 13 tonnes of debris on the railway line.
'Very fortunate'
A First Great Western service, from London Paddington to Penzance, struck and ran over part of the fallen masonry at 75mph, causing the front of the train to lift up, although it did not derail.
The report found that although a member of the public, who witnessed the lorry hitting the bridge, called 999 immediately, there was a delay of eight minutes in the information being passed on from Thames Valley Police to Network Rail.
The call handler contacted British Transport Police instead of immediately alerting the control room inspector, who would have been responsible for contacting Network Rail.
"Had the emergency message been passed directly to Network Rail, it is likely that the train could have been stopped before the collision," the RAIB said.
The report recommended that Network Rail set up a programme of installing identification plates on similar bridges, giving contact details for reporting such an incident.
It also found there were no road signs to warn drivers that the narrow road over the railway was not suitable for HGVs.
A spokesman for Thames Valley Police said the force "immediately ensured procedures were updated" and staff had been "fully briefed".
"It was very fortunate that nobody was injured during this incident."