Lord Montagu memorial service held at Westminster Abbey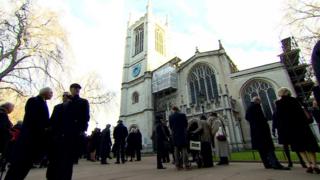 A memorial service has been held at Westminster Abbey for Lord Montagu, founder of the National Motor Museum.
Edward, 3rd Baron Montagu of Beaulieu, Hampshire, died in August aged 88, following a short illness.
The service in St Margaret's Church was attended by family, friends and representatives of organisations he was associated with.
Lord Montagu founded the National Motor Museum on his New Forest estate as a tribute to his motoring pioneer father.
Former champion racing driver Sir Jackie Stewart, who was at the service, described his friend as "one of the great people of motorsport and motor cars in the UK and around the world".
"We'll all miss him - he was a great motorsport enthusiast and his contribution to the motor industry was fantastic," he said.
Veteran broadcaster Nicholas Parsons, who knew Lord Montagu through the Wine Guild, described him as "an exceptional man".
"He contributed to our society in many ways. He was always friendly and engaging - it's a privilege to have the opportunity to pay tribute to him."
At the age of two, Lord Montagu succeeded his father, John, in the baronetcy. In 1952 he opened his home, Palace House, to the public.
He also founded the National Motor Museum on his 7,000-acre (2,800 hectare) estate and was a leading authority on veteran and vintage cars, usually taking part in the London to Brighton run.
In 1982 he became the first chairman of the Historic Buildings and Monuments Commission (now English Heritage) and served until 1992.
Lord Montagu was involved in two infamous trials. At the first in 1953, he was cleared of a serious offence against a 14-year-old boy scout.
However, the following year the peer was charged with homosexual acts, which were then illegal. He pleaded not guilty but was convicted and given a 12-month jail sentence.
The trial led to the setting up of the Wolfenden Committee, which in 1957 recommended that consensual homosexual acts between adults should no longer be criminal.
His funeral took place at Beaulieu in September.