Storm Desmond: Flooded rivers broke flow records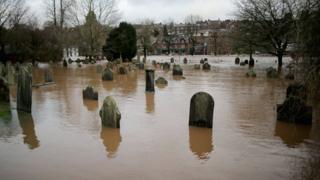 Three rivers in the north of England had the largest flow ever recorded in the country because of Storm Desmond.
The Eden, Lune and Tyne - in Cumbria, Lancashire, Tyneside and Northumberland - had flows of 1,700 cubic metres per second, the Centre for Ecology and Hydrology (CEH) said.
Normal rates are 36-53 cubic metres per second, it said.
Heavy rainfall resulted in widespread flooding to homes and businesses, collapsed bridges and landslides.
The record river flow was equivalent to 41 Olympic-sized swimming pools of water going past the measuring gauge every minute, a rate that would fill the Royal Albert Hall in less than a minute, according to the CEH.
On 26 December large rivers in the Pennines area, such as the Nidd, Wharfe, Aire and Irwell, had their highest flows for more than 50 years, it said.
There were also new rainfall records, with 341.4mm (13.4in) of rain at Honister Pass, Cumbria, over a 24-hour period during the 4 December storm, the Met Office said.
Upland areas in the Lake District, north Pennines and the Cairngorms had three times their normal levels of rain, it said.