Cheshire East Tories choose Rachel Bailey as leader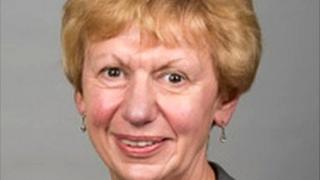 Conservatives at Cheshire East Council have elected a successor to former leader Michael Jones.
Rachel Bailey, who beat rival candidate Janet Clowes in the selection process, is expected to be confirmed as council leader in February.
Mr Jones resigned over questions about contracts awarded to a firm run by his physiotherapist.
A criminal investigation into misconduct in public office is under way about contracts to Core Fit Ltd.
Ms Bailey will have to be ratified at next month's full council meeting.
Mr Jones was accused of "undermining" the contest.
Ms Clowes criticised him after he told journalists he was surprised she "had the gall to stand" after her husband "readily condemned" him.
Her husband Nick Clowes had called for an independent external inquiry into the contracts.
Ms Bailey is currently responsible for children's services on the council's cabinet.
She has told the BBC she will "build on (Cheshire East Conservative) successes to date and engender unity".
Mr Jones denied any wrongdoing when he stood down on 8 December.