Corbridge landslide: Engineers must clear 35,000 tonnes of earth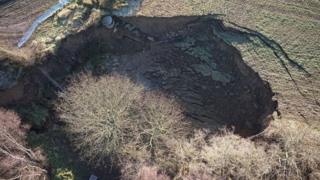 Engineers have said 35,000 tonnes of earth must be cleared before a landslip-damaged rail line linking north-east England and Cumbria reopens.
The Newcastle to Carlisle line was blocked after flooding resulted in three landslips near Corbridge.
Network Rail is hoping repairs will be completed by the end of February.
Trains currently run from Carlisle to Hexham and Newcastle to Prudhoe, with buses calling at all stations between Prudhoe and Hexham.
Network Rail managing director Rob McIntosh said: "Up until a few days ago the landslip was still moving and wasn't stable, but over the weekend we diverted the remaining water away.
"This has allowed the site to stabilize and we have been able to carry out our surveys.
"We estimate there is in the order of 35,000 tonnes of material to move.
"But we have developed a plan to remove that, which should take three to four weeks and we can then reopen the line.
"It would be unwise to give an exact date because of variables like the weather, however, we are very confident that in three to four weeks we will be able to run trains again between Newcastle and Carlisle."