Gloucestershire diving centre death 'a tragic accident'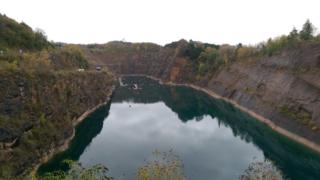 A woman's death while scuba diving at a former quarry in Gloucestershire was "a tragic accident", a coroner has said.
Mary Restell, 54, was diving at a depth of 60m (197ft) with her husband, Roy, when she became unresponsive and was rushed to the surface.
An inquest heard how under-performing breathing regulators and a dense gas mix with a high nitrogen content all contributed to her death.
Senior coroner Katy Skerett gave a verdict of accidental death.
'Difficult to breathe'
In a statement read to Gloucestershire Coroners Court, Mr Restell said: "Mary and I had enjoyed diving together and regarded ourselves as experienced divers."
The court heard the pair - from Tavistock in Devon - had dived together for 15 years and this particular visit to the National Diving and Activity Centre at Tidenham was one of many.
Thomas Anthony, an independent expert witness who assessed the equipment after the tragedy, said the specific trimix gas they were using was "not ideal" for a 60m dive.
He told the court it would have been dense, making it difficult to breathe, and a high nitrogen content could have had a narcotic effect.
Ms Skerett said the cause of death was a gas embolism and a lung-related pulmonary barotrauma and pulmonary tumour.
She said "it was a tragic accident of a lady who was doing what she liked" and offered her sincere condolences to those present in court.