'51 penalty point' Oxford motorist escaped driving ban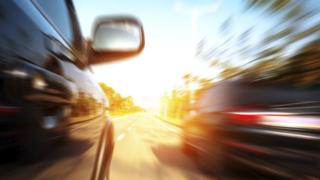 A motorist who clocked up 51 points on their driving licence is still allowed on the road, research has uncovered.
The provisional licence holder from Oxford has not been banned despite points accumulated for speeding, latest figures obtained by the Institute of Advanced Motorists (IAM) show.
The institute said such cases risked "devaluing" the licence points system.
Drivers who get 12 or more penalty points within a three-year period usually face a temporary ban.
Magistrates' discretion
Other cases include a driver from Basildon, Essex who escaped a ban despite clocking up 42 points and previously being caught doing 109mph.
The motorist was not disqualified from driving as magistrates accepted mitigating circumstances including "extreme hardship" through loss of income.
Another driver, from Burnley, Lancashire, was not disqualified despite being caught speeding in 30mph zones 10 times and accumulating 38 penalty points.
The figures were released by the Driving and Vehicle Licensing Agency (DVLA) following a Freedom of Information request by the IAM.
---
Figures show 13 people in England currently have 28 or more points on their driving licence:
51 points - Oxford
42 points - Liverpool
42 points - Basildon
39 points - Wigan
38 points - Burnley
33 points - Northampton
33 points - SW London
30 points - Sheffield
30 points - Southend-on-Sea
30 points - Slough
30 points - Cambridge
29 points - Peterborough
28 points - Stevenage
---
A DVLA spokesman said: "In the majority of these cases, magistrates may have decided to allow drivers to retain their entitlement to drive where it is considered that disqualification would cause exceptional hardship".
IAM chief executive officer Sarah Sillars said there needed to be a more "joined-up approach to the judicial process".
She said: "Individual courts making decisions on prosecutions can lead to inconsistency in how the law is applied which risks devaluing the simple "12 points and you're out" road safety message.
DVLA data shows 3m out of the 45m driving licence holders in Britain have points on their licence.
Around 100,000 driver have been disqualified over the past four years for reaching 12 points.