Questions raised over Southern rail franchise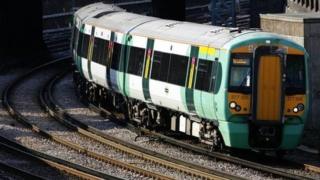 Questions have been raised over Southern's rail franchise after months of complaints from passengers and MPs.
MPs have recently branded the service a "joke" and said it is quicker to fly to space than travel to the coast.
On Tuesday, Mid Sussex MP Sir Nicholas Soames asked in parliament in what circumstances the Southern franchise could be withdrawn.
David Scorey, Southern's passenger services director, said the company was delivering according to its contract.
BBC Surrey's political reporter, Jack Fiehn, said the past 18 months had seen disruption to Southern services due to rebuilding work at London Bridge, engineering over Christmas, a recent signal failure, overcrowding and a lack of drivers highlighted by Sam Gyimah MP.
Commuters described journeys where they have been physically unable to get on trains due to cancellations leading to two lots of passengers trying to board the next service.
Reigate MP Crispin Blunt said Southern's performance in the past year suggested the company was not fit to run the franchise and it was up to the rail minister to hold Southern to account.
He said people deserved a reliable service and added: "If this company can't deliver it, then plainly we should be looking elsewhere."
But Mr Scorey said: "We've got a contract with government and we're delivering against that contract."
"I think it's a matter for the secretary of state and the minister to respond to Sir Nicholas but we're doing everything that we ought to be doing to improve performance."
He said congestion and reduced infrastructure as a result of rebuilding work at London Bridge had seen a greater impact on performance than anybody anticipated.
Steps taken to improve the service had included employing more drivers, working with Network Rail on track, signalling and points, and improving the fleet, but Southern was seeking other options, he added.
He said Southern - which operates in Sussex, Surrey and parts of Kent and Hampshire - was carrying 30% more passengers than five years ago, which was a success story but had created capacity constraints.
Rail bosses and politicians are due to meet on 18 January.