One-eyed cat found in car engine after two-county journey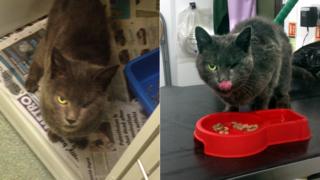 A one-eyed cat has been discovered in a car engine after being driven across two counties.
The feline is now recovering at a vet clinic in Cleobury Mortimer, Shropshire, after travelling from Stourport in Worcestershire.
The cat, a grey adult female, was taken to Severn Edge Surgery by the motorist after the 15 mile (24 km) journey.
Liz Abbiss from the vet said the animal is in good health and the surgery is "desperate" to find its owner.