North East fire crews to begin medical emergency trial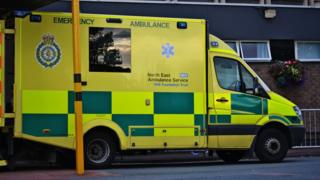 Firefighters across north-east England are to start dealing with medical emergencies, under a six-month trial.
Four local fire services will work with the North East Ambulance Service (NEAS) to respond to life-threatening emergencies such as cardiac arrests.
Firefighters are equipped with a medical kit with the aim of helping to improve survival rates when they are first on the scene.
Douglas MacDougal from the NEAS said the scheme would benefit patients.
Cleveland Fire Brigade's chief fire officer, Ian Hayton, said: "It allows them to reach casualties and maintain life, or actually reduce some suffering, until the professional paramedics arrive.
"We are there to compliment and support - it will always be a joint response."
The ambulance service said calls had increased by almost 20% since 2007, and during the same time programmes of community safety work meant firefighters were attending fewer fires.
Mr MacDougal said: "There's no intention for the fire services regionally to replace our lead clinicians on ambulances. Our role will remain the same.
"The whole point is to enhance the service that we provide to the public."
The trial begins on Monday. Similar schemes are also being trialled elsewhere in England.