Flooded baby otter recovering well after Rea Brook rescue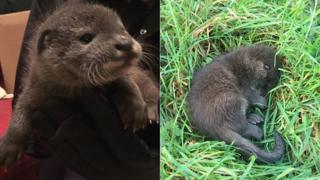 A baby otter which was swept out of its holt by floodwater is recovering well, a wildlife charity has said.
The cub was discovered near Rea Brook in Shropshire in December and was taken to the county's wildlife trust.
It was then transferred to an RSPCA rehabilitation centre at Stapeley Grange in Nantwich, Cheshire, where it has been nursed back to health.
When fully recovered, the cub will be released back into the wild near the place it was found.
The Wildlife Trusts, the umbrella organisation for 47 groups covering the UK, said otters can be badly affected by flooding, especially when the cubs are young and not strong swimmers.