Astronaut Tim Peake tweets view of South East from space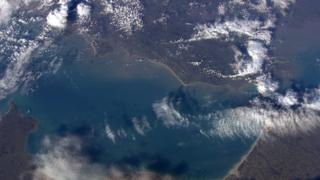 A spectacular view of the South East from space was sent back to earth by astronaut Tim Peake on New Year's Eve.
"Looks like some fine weather for #England and #France for tonight's fireworks!" he said in a tweet.
The astronaut is sending regular tweets to 300,000 followers on Twitter from the International Space Station (ISS), where he is based for six months.
The father-of-two from Chichester in West Sussex arrived at the ISS on 15 December.
His time at the station will be spent conducting scientific experiments.
'Hello?'
The astronaut is becoming well-known for his light-hearted tweets from space.
On Christmas Eve, he sent an apology after dialling a wrong number from space and saying to a woman on the other end of the line: "Hello, is this planet Earth?"
He said it was not intended to be a "prank call".