Rise in new year 999 ambulance calls across Yorkshire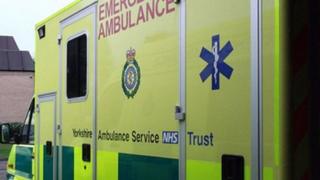 Yorkshire Ambulance Service (YAS) has seen a rise in the number of "serious" emergency calls over New Year's Eve.
The service said it had 1,302 calls over the 12-hour period from 18.00 on 31 December to 06.00 on 1 January.
More than half the calls were received after midnight, with a 15% increase in the number of serious "Red" incidents, compared with the same period last year.
A spokeswoman said many of the calls were "alcohol related".
YAS said at one stage it was was receiving an emergency call every 12 seconds.
'Extra pressure'
Ben Holdaway, from YAS said the service had set up medical units in town and city centres across the region to treat people who had too much to drink or those who had sustained minor injuries without them needing to go to hospital.
Mr Holdaway said there was "a significant number of emergency calls to patients who had been assaulted while out celebrating the start of 2016."
"Clearly this is distressing for those directly involved, but it also places extra pressure on us and partner services," he said.