Shoreham air disaster: British Empire Medal for Red Cross leader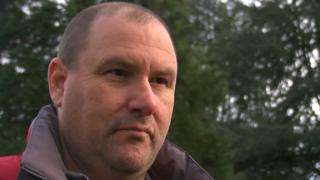 A Red Cross manager who led the organisation's on-site response to the Shoreham Airshow disaster has been awarded a British Empire Medal.
Richard Tyler, 44, saw the Hawker Hunter jet go up in a loop and come down again as it crashed onto the A27 on 22 August.
"This is an award for the team because they did a marvellous job on the day. They're all volunteers," Mr Tyler said.
Eleven men, ranging in age from 23 to 76, were killed.
"We plan for these sorts of things, we hope it never happens, unfortunately it did, but the plans worked really well," the event first aid services manager for Kent and Sussex added.
The Red Cross team worked alongside the first ambulance crew on the scene, providing first aid to the walking wounded.
Mr Tyler, from Hawley, near Dartford in Kent, said: "Unfortunately we couldn't help all the people that were there, but the 15, [or] 20 people that walked into us we dealt with.
"We then fed them onto the ambulance service for transport onto hospital."
The jet crashed in front of a 20,000-strong crowd, and Mr Tyler said they then went on to help those in need who had witnessed it.
Recalling the tragedy, he said: "I remember thinking 'he's very low', and then a cloud of smoke and flame went up.
"Strangely, though, I don't remember any loud noise or explosion. I turned to control and said 'you need to put out a Code Red now'.
"At that point our major incident plans kicked in. A Code Red means there has been a significant incident affecting the event."
Mr Tyler said he was very proud to have been recognised in the New Year's Honours.
"In my 34 years [in the Red Cross] I've never expected anything like this.
"Mind you I never expected to walk into that on that day. It's very much for the whole team."
---
The victims:
Matt Jones, a 24-year-old personal trainer
Matthew Grimstone, 23, a Worthing United footballer who worked as a groundsman at Brighton & Hove Albion
Jacob Schilt, also 23 and also a Worthing United player, was travelling to a match with Mr Grimstone
Maurice Abrahams, 76, from Brighton, was a chauffeur on his way to pick up a bride on her wedding day
Friends Richard Smith, 26, and Dylan Archer, 42, who were going for a bike ride on the South Downs
Mark Reeves, 53, had ridden his motorcycle to the perimeter of Shoreham Airport to take photos of the planes
Tony Brightwell, 53, from Hove was an aircraft enthusiast and had learnt to fly at Shoreham airfield
Mark Trussler, 54, is thought to have been riding his motorcycle on the A27
Daniele Polito was travelling in the same car as Mr Jones
Graham Mallinson, 72, from Newick, was a keen photographer and retired engineer