Man jailed for Charlotte Leslie MP Facebook bomb threats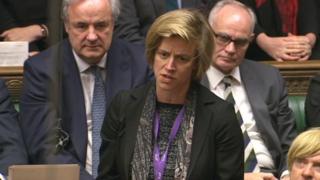 A man who threatened to bomb the home of Bristol North West MP, Charlotte Leslie, has been jailed for eight weeks.
Craig Wallace, 23, who is also known as Muhammad Mujahid Islam, pleaded guilty at a previous hearing.
He made the threat on Facebook after the Conservative MP voted in favour of authorising air strikes in Syria.
District Judge Mark Jabbit at Willesden Green Magistrates' Court said his comments were "vile".
"You personalised a very, very, very serious debate by using not just vile, but I would describe it as misogynistic, language towards a sitting MP in a public forum, which no doubt caused distress," he said.
The comments were made on the day after the vote.
'Deeply sorry'
Janaka Siriwardena, defending, told the court: "Clearly, what Mr Wallace did was despicable and it went far beyond any sort of legitimate protest and he is deeply sorry for what has happened.
"He felt he needed to protest against what he thought was something he disagreed with. He is deeply sorry about that and what he does want to mention is that he acknowledges that he had issues with controlling his emotions."
Mr Wallace, of Teignmouth Road in Willesden Green, converted to Islam while in prison serving a sentence for attempted robbery.