De La Mer House care home shooting: Woman killed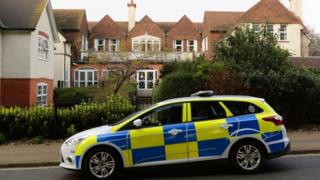 An 81-year-old woman has been shot dead by a fellow octogenarian resident at a care home in Essex, police said.
Police identified the victim as Rita King, who they said was related to the man arrested on suspicion of murder at the De La Mer House care home in Walton-on-the-Naze.
Detectives said they had found a revolver at the home.
Essex Police said an 86-year-old man was still being questioned about the incident.
A post-mortem examination on Ms King was being carried out on Tuesday morning, the force said.
Earlier, the home's manager described how she confronted a man carrying a gun and convinced him to hand over the weapon.
Officers were called to the home in Naze Park Road at about 09:00 GMT after reports a woman was seriously injured. Ms King died at the scene.
Staff at the care home said the arrested man had only been at the home for a week.
When armed police arrived, staff said they had already taken a weapon off a man in his 80s and locked it away.
Julie Curtis, who has run the residential home for two years, said she had seen a man walking towards her with a gun.
She said: "I put my left arm around him and put his right arm between him and the gun and said 'please, please give me the gun', and he let go."
Mrs Curtis said at first she had not realised the gun was real or whether anybody had been injured.
The manager said her staff had been "brilliant" and had been "staying calm and speaking to the residents who live here".
She said: "Under the circumstances, everyone is coping very well."
Det Ch Insp Simon Werrett, of Essex Police, said: "At this stage we are not looking for anyone else in connection with the investigation and our inquiries are ongoing."
Douglas Carswell, the UKIP MP for the area, said he was "very shocked".
He said: "If you have got a loved one in a care home, you expect them to be safe. Walton-on-the-Naze is supposed to be one of the most peaceful and tranquil places there is. Of all the places you expect this to happen, this is the last."