Costa Coffee shop crash: Prayers said for dead and injured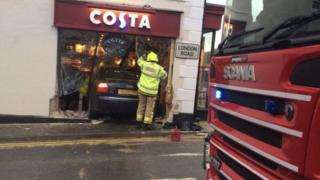 Tributes have been paid and prayers said for the woman who was killed and four people who were seriously injured when a car ploughed into a coffee shop.
A woman, aged in her 70s, died when an Audi crashed into Costa on The Green, Westerham, Kent on Christmas Eve.
Four people, two men and two women, remain in hospitals in south London with serious injuries.
Prayers were offered at churches that serve people in Westerham on Sunday.
Flowers have also been left at the crash scene in the centre of the north Kent town.
'Sadness and grief'
Westerham Congregational Church, which holds an informal monthly service at Costa Coffee, has offered its "deepest sympathies to all those directly affected, including the [cafe] staff members".
Before its service on Sunday, St Mary the Virgin Parish Church said in a statement that "feelings of shock, of disbelief, of incomprehension were quickly followed by sadness and grief".
"Our thoughts are with the family of the lady who lost her life, with the injured and those who watch and hope for their recovery, as well as with those caring for them.
"We remember too those who witnessed the tragedy or its aftermath."
Kent Police said the driver of the Audi appeared to lose control as the car came down the High Street.
It mounted the footpath before going through the window of the cafe at about 10:30 GMT.
A woman aged in her 70s was pronounced dead at scene and a man and woman were taken by ambulance to St George's Hospital in Tooting, south London, with serious injuries.
Another seriously injured man and woman were taken to the Princess Royal Hospital in Farnborough.
A woman was also treated for minor injuries at Tunbridge Wells Hospital.