Mother questions death driver's drug sentence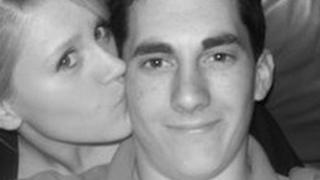 The mother of a man killed by a dangerous driver has questioned why he will spend longer in jail for growing cannabis than for her son's death.
Greg Stiles died in a 2009 crash caused by Sam Edwards, who was sentenced to five years in prison in 2010.
Maggie Stiles, of Thame, said his release after serving half the sentence had been "a kick in the teeth".
She spoke out after Edwards was sentenced to seven and a half years for cultivating 1,600 cannabis plants.
In May 2009 Edwards attempted to overtake three vehicles on the A4129 in Kingsey, causing the accident which killed Greg, 18, and critically injured his girlfriend.
Mrs Stiles said: "We struggle with the concept that taking a life on the roads carries a lesser sentence than the current offence.
"Two and a half years when we had lost our son was a bit of a kick in the teeth. Five years should mean five years.
"No one can describe the heartache. It's devastating, we've got a life sentence."
'Sentences are pitiful'
Edwards, 32, of Marsh, near Aylesbury, was sent to prison on Friday for growing cannabis, a class B drug, and was given an 18-month sentence for abstracting electricity, which will run concurrently.
Ms Stiles said: "We feel that there is potentially problems associated with the sentences around causing death by dangerous driving.
"No amount of sentencing can come close, but a lot of the time sentences for death by dangerous driving are pitiful."
A Ministry of Justice spokesperson said: "We have every sympathy with the family of Greg Stiles for their tragic loss.
"Driving offences can have devastating consequences for victims and their loved ones, which is why tough sentences can be imposed by the courts of up to 14 years in prison."
'1,600 cannabis plants'
In March police found a cannabis factory with more than 1,600 plants at the Edwards' house in Marsh.
Sam Edwards and his father Terry, 68, were found guilty of producing cannabis and abstracting electricity. They were both sentenced to seven and a half years in prison.
Luke Henney, 31, of Cotswold Green, Aylesbury, was sentenced to two and a half years in prison for producing cannabis.
The Sentencing Council declined to comment.