Campers stay out overnight to raise awareness of refugees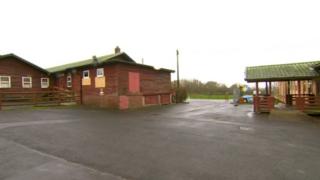 More than 150 volunteers spent the night in 'survival camps' to highlight the plight of refugees this winter.
They stayed at three camps in Essex, Shropshire and Stockport, sleeping in tents and eating the kind of rations handed out to refugees.
The participants had to walk five miles to their 'survival camp' and go through regular checkpoints as part of the initiative.
Organisers hope it will help people understand refugees' daily routines.
Each entrant paid £10 to register and was urged to raise £165 to provide basic essentials for a family of five for winter.
'Understanding' refugees' experiences
Zia Salik, national community fundraising manager for Islamic Relief, attended the gathering in Waltham Forest, and said he was inspired to launch the event after visiting a camp on the Syria-Turkey border last year.
"It was winter, it was cold, and the people who were living in these tents had already suffered quite a lot," he said.
"I think no matter how much you show people videos or talk about the refugees' experiences, you only really get to understand the situation if you go through something like that."
Madiha Shah, who attended the camp at Cleobury Mortimer, in Shropshire, said she is more determined to support refugees around the world after a "physically draining" and "emotionally challenging" day.
"The camp was definitely an eye-opener because our patience was tested and our comfort zones were compromised," she said.
Syrian national Hassan Ayo, who now lives in Coventry, spent two years in a Turkish camp with his family, suffering the tragedy of seeing his teenage daughter die while they were displaced.
He hopes the events can highlight the trauma refugees suffer.
"It was very difficult living in Turkey, it was very cold in winter and people died," he said.
"There are one million Syrian people in camps in Turkey, and one million more in cities, it's very hard."