Hundreds pay respect to Legion d'Honneur veteran Eric Gill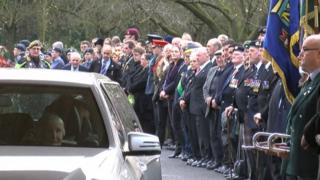 Hundreds of people have paid their respects to a D-Day veteran who died months after being awarded France's highest military honour.
It had been feared few of 99-year-old Doncaster man Eric Gill's relatives could attend because of illness.
But after an appeal by Mr Gill's friend, Gwen Borrows, about 300 people attended Rose Hill Crematorium.
Mr Gill was awarded the Legion d'Honneur in April for his efforts on the Normandy Landings in 1944.
'Astonishing support'
BBC Radio Sheffield said Doncaster's Civic Mayor Paul Wray and MP Caroline Flint attended the service.
Tom Heath of the Doncaster Central branch of the Royal British Legion said: "Words can't explain the support that has been shown by the people of Doncaster.
"The support from members of the public was astonishing. It's a pleasant reminder that people still care.
"I hope that Eric had the best possible send off.
"It's the Royal British Legion's role to provide support to events that occur like this and it was our pleasure and duty to be in attendance to be at this funeral."
Former serviceman Mark Dooley went to the funeral and said: "When I left school I joined the Royal Air Force and when I left the Air Force I joined the infantry. We look after our own.
"I'm here because of respect, for what he did everybody should be here. the whole country owes not just this gentleman but a lot of other veterans a lot of respect."