Vaccine shortage halts Dorset badger bovine TB jabs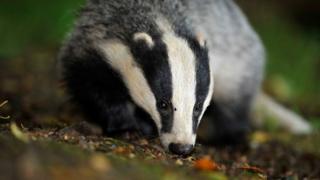 The Dorset Badger Vaccination Project (DBVP) has been halted because of a world shortage of the vaccine.
The government said it would suspend the sourcing of the BCG vaccine, which protects against bovine TB, because the formula is also used in the human jab.
In 2015, 156 badgers were vaccinated against bovine TB in Dorset. Nearly five times that number were culled.
DBVP said it hoped supplies would be restored before the end of 2016 to allow the programme to resume.
The suspension follows World Health Organisation advice to countries to limit the use of the vaccine, which uses the same formula used to protect humans from tuberculosis.
'Temporary blip'
Environment secretary Elizabeth Truss told Parliament: "Unfortunately there is a worldwide shortage of the BCG vaccine, and I have therefore decided to suspend the sourcing of the vaccine for badgers in England in order to prioritise human health."
The DBVP, which opposes the cull, has been vaccinating badgers as an alternative to killing them, but the badger version of the jab uses 10 times more of the drug than the human version.
Sue Aldous, who has been vaccinating the animals, said the suspension was a "temporary blip" but said vaccination was the most humane and effective way of halting the spread of the disease.
Ministers and farmers have said culling is necessary to tackle the spread of bovine TB, which results in thousands of cattle being slaughtered every year.
The latest figures show 756 animals were killed in Dorset, 432 in Gloucestershire and 279 in Somerset as part of efforts to eradicate bovine TB.
Ms Truss also told Parliament she was considering extending the badger cull programme and said more than half of England was expected to be free of the disease by 2019.