'Plebgate' police officer guilty of misconduct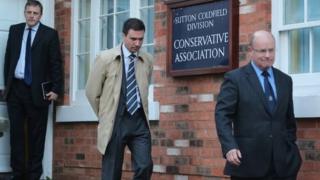 A police officer has been found guilty of misconduct for his role in the "plebgate" affair, involving former chief whip Andrew Mitchell.
West Mercia inspector Ken Mackaill, a former Police Federation official, was accused of giving misleading accounts of a meeting with Mr Mitchell in 2012.
The meeting followed claims the Tory MP called police "plebs", which he denied.
An independent panel ruled on Thursday Insp Mackaill had breached the standards of professional behaviour.
No further action will be taken against him.
'Intense scrutiny'
The panel, led by Lincolnshire Police Assistant Chief Constable Peter Davies, also concluded there were no breaches of honesty and integrity.
The hearing followed an investigation by the Independent Police Complaints Commission (IPCC).
Det Sgt Stuart Hinton, from Warwickshire Police, is also facing a misconduct hearing. A third officer, Sgt Chris Jones, from West Midlands Police, has been cleared of misconduct.
The officers, all Police Federation representatives in the Midlands, met Mr Mitchell at his Sutton Coldfield constituency office to find out what he had said during a confrontation with officers in Downing Street.
It followed reports he had sworn at police and called them "plebs" for refusing to let him cycle though the street's main gate.
After the meeting in October 2012, the men from the Police Federation told the media Mr Mitchell had not given a full account of the incident and called for him to resign.
But a recording of the meeting cast doubt on what they had said.
Det Supt Gary Watson, head of professional standards for Warwickshire and West Mercia forces said of the panel's verdict on Thursday: "This matter has been the subject of the most intense scrutiny and the due process has been concluded.
"The force accepts the decision of the panel."