Greater Anglia trains: Calls for Stowmarket in 70 minutes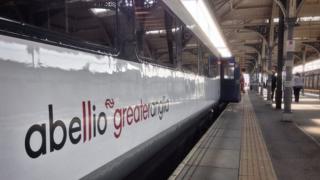 Time has run out. The deadline for bids to run the trains on the line into London from Norwich has passed.
On the eve of the cut off point, MPs from Norfolk, Suffolk and Essex made pleas in the House of Commons for improvements on the line.
Bury St Edmunds MP Jo Churchill, who led the debate, called for 70-minute journey times between London and Stowmarket; adding to the campaign to cut journey times to Norwich to 90 minutes and to reach Ipswich in 60 minutes.
It came on the day that the company that runs the region's rail services set up a joint inquiry with Network Rail into the serious disruption last month, caused by leaves on the line.
Hundreds of services on branch lines on Abellio Greater Anglia had to be cancelled because the train wheels were damaged.
That was only the latest hold up on what has been called the "misery line".
MPs set out their demands to the minister in the debate on the future of the rail franchise for Greater Anglia. Jo Churchill said it was critical to get improvements.
Ely Junction
"Only last week, the list of red delays between Liverpool Street and Colchester was long enough to make the timetable look like a seasonal candy cane. It does not matter from whatever angle you view the situation: having to guess your arrival time, or even whether you will arrive for work or an appointment on time is simply not fair," she said.
She was supported by MPs from across Norfolk, Suffolk and Essex.
Norwich MP and long time rail campaigner Chloe Smith added: "I agree with her in the strongest possible terms that this is a once-in-a-generation opportunity. We have to align the work of Network Rail in the next 10 years with a nine-year franchise to get infrastructure improvements and new trains. That is what our passengers need."
There were calls from several MPs for work on Ely junction, which was recently delayed, to be reinstated not least, said Cambridgeshire MP Lucy Frazer, because of the growth in our region and the fact that Cambridge is one of the few net contributors to the Treasury.
Stories were told of old and dirty trains, crowded trains and delayed trains. Peter Aldous, Waveney MP, claimed people could not even get on to trains at the weekend because of the combined effect of Christmas shoppers and football fans travelling to Norwich.
North Essex MP Bernard Jenkin called the service "insufferable" while Chelmsford MP Simon Burns said there were to be "no if and no buts" about improvements.
The Minister, Claire Perry, congratulated them all for turning out, observing that such debates were rarely so well attended.
She acknowledged that works such as doubling track, putting in passing loops and improving signalling need to happen to deliver a decent service.
She agreed with Colchester MP Will Quince that they weren't in the business of peddling jam tomorrow but added:" We are investing more in our rail network than at any time since Victorian times. We will spend £38bn on our railways over this period."
And she urged the MPs to stick together and keep making the case for the rail network in East Anglia.
I'm sure passengers and MPs alike feel it's already a well worn record.