Newborn baby died after mistake by Bristol hospital doctors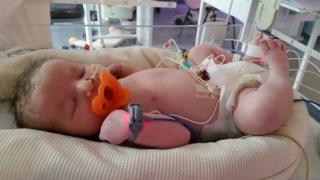 A newborn baby died after doctors at a Bristol hospital made a mistake reading an X-ray and left a catheter in the wrong place, a coroner has ruled.
Abigail Goodall, who was born with congenital heart disease, died at St Michael's Hospital in October 2014.
Assistant Avon Coroner Robert Sowersby said doctors were over-reliant on medical equipment.
Abigail's parents said they were heart-broken and the death of their four-day-old baby could have been avoided.
Avon Coroner's Court heard two catheter lines - one to a vein and the other to an artery - were inserted into Abigail's heart shortly after she was born. The lines were later repositioned incorrectly.
The two-day inquest heard errors in Abigail's care were not spotted because neonatal specialists at the hospital relied on echocardiograms to tell them if the catheters had been inserted correctly.
Mr Sowersby said: "I accept that clinical errors were made in terms of the line placement, but having reviewed the records and spoken to the doctors it seems to me that in general terms her standard of care was good."
Speaking after the hearing Abigail's mother Sarah Goodall, from Trowbridge in Wiltshire, said: "Nothing will bring Abigail back, but we hope that highlighting the errors in our case will lead to improvements which mean no other family has to suffer like we have."
Dr Bryony Strachan, from University Hospitals Bristol NHS Foundation Trust, said: "We hope this will be some comfort to Abigail's family and would like to again apologise unreservedly to them."
The coroner recorded a narrative conclusion and said he would write a report highlighting the limitations of echocardiograms.