Southern rail conductors vote to strike in staffing dispute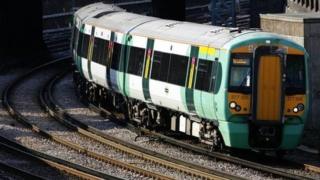 Conductors on Southern rail have voted to go on strike over a "comprehensive breakdown" in industrial relations, the RMT union has announced.
The dispute is over issues including staffing and rosters which the union said were disrupting services.
Of the 255 votes cast, 185 were in favour of strike action.
Southern said it had worked "really hard" with the RMT to put a proposal on the table and was hoping for a "positive response".
'Chronically understaffed'
The union's executive will have to give seven days' notice of any strike action.
RMT general secretary Mick Cash said staffing shortages were "a disgrace and creating daily problems".
"This is a vital and lucrative franchise where commuters pay thousands of pounds a year to travel on services that are chronically understaffed and RMT members have had enough of it," he said.
"This union will not sit back while staffing levels are pared to the bone on rail franchises and our members run ragged solely in the interests of private company profits."
Mr Cash added that he hoped Southern rail would now "see sense", and the union was available for further talks.
Southern runs services between London, Sussex, Surrey, Hampshire and Kent.