Stagecoach pulls out of rail bid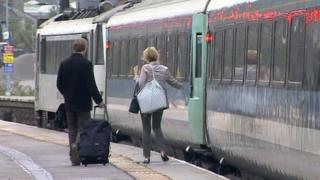 The news seemed to surprise just about everyone: with little over a week to go before final bids had to be submitted, one of the firms hoping to run rail services in East Anglia decided to pull out.
Stagecoach was supposed to be putting in a joint bid with Abellio to take over the new Greater Anglia franchise. It would supply 40% of the funding but the two companies were unable to agree final terms.
"We have been unable to reach an agreement with Abellio on elements of the proposed bid," Stagecoach said, in a statement.
"As a result of that and taking account of the other rail bidding opportunities that we anticipate over the next two years, we have decided not to proceed with an equity participation in the bid for the new East Anglia franchise," Stagecoach added.
Abellio was quick to announce that it would continue with the bid on its own. "We can get the money together and our bid will be in on time," a spokesman said. "We feel it will represent a compelling proposal for the people of East Anglia."
But among MPs and the local business community that we have heard from, there is a feeling that without the high-profile partnership with Stagecoach, the Abellio bid may struggle.
Rival bids
Two other big firms have also been shortlisted. We understand that First Group and National Express have also made impressive pitches.
But the Stagecoach/Abellio bid was thought to have a lot going for it. Stagecoach is considered by many to be one of the leading rail companies in the UK with a strong track record and an ability to easily source rolling stock.
Abellio is the current operator of the franchise and has worked closely with campaigners to draw up the Rail Manifesto, which listed the half billion pounds worth of improvements needed across East Anglia.
"I know we've criticised them a lot recently for poor service, and rightly so, but what's attractive about Abellio is that they get it." one MP told us. "They understand the region, they know what the region needs and I wonder if any of the others really do."
Other MPs say that it doesn't really matter who is bidding, only who eventually wins. "Our priorities are unchanged," says Chloe Smith, the Norwich North MP, one of those leading the campaign for improvements. "We expect all bidders to respond to our high demands for the best for East Anglian passengers."
Abellio says it is "quite relaxed" about the departure of Stagecoach. It points out that the company has offered to provide support and advice should it win the next franchise... but no money.
Abellio has been running the Greater Anglia franchise for the last four years. It has been hampered by old rolling stock, poor track and signalling, along with uncertainty over how long the present franchise will last. Despite this it has invested £30m improving stations and refurbishing a lot of its carriages and has made no secret of its wish to take on the new nine-year franchise.
Have its plans hit the buffers or can they get back on track? The final decision will be made by the transport secretary in a few months' time.