Durham Light Infantry Museum closure fight to continue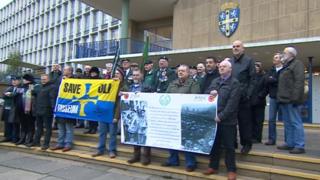 War veterans and campaigners trying to save a military museum from closure have pledged to continue the fight.
Durham Light Infantry (DLI) Museum is due to shut as part of the county council's cost-cutting measures.
The local authority was due to discuss calls for a public consultation, which could delay the measure, but other subjects at the meeting overran and the debate failed to take place.
The museum will now shut in April, as originally planned.
Some of its exhibits will be displayed at Durham University and the rest of its collection relocated to a building in Spennymoor.
Campaigner Peter Bell, who was joined by a number of war veterans at Durham County Hall, described the closure plans as "nothing short of a disgrace".
He said: "It's really important we keep the history alive for future generations, to make sure we don't make the mistakes we've made in the past."
Gill Thompson, a World War Two veteran, said: "DLI museum belongs to Durham City, the central point of the county surely its worth preserving."
However, County Councillor Neil Foster said: "I would say to [protesters], 'are you concerned about a physical building, or are you concerned about getting the collection out to be seen by as many people as we possibly can, and have it properly looked after, properly maintained?'
"I would rather spend the money on that, and I'm sure they will when they see it actually in action."