Sprouts 'cheapest for half a decade'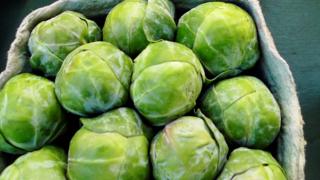 They can make or break the Christmas dinner, depending on whether you love or hate them.
But fans of Brussels sprouts are in for a cheaper year, as the price per kilo (2.2lb) has fallen to a five-year low.
Figures supplied by mysupermarket.co.uk for BBC News show how sprouts are selling for an average £3.59 per kilo, compared with about £9 in 2010, when prices are adjusted for inflation.
Experts say prices of vegetables depend on the weather.
Frozen ground
Kim Ludlow, managing director of mysupermarket.co.uk, said: "We have seen some interesting data on the prices of your typical Christmas dinner this year.
"Whilst some items have gone up compared to last year - particularly in the alcohol category - there are some great discounts to be made on some Christmas dinner staples.
"The price of turkeys - both fresh and frozen - is down per kilogram on average across most retailers, as are gammons and hams.
"The rise in Brussels sprouts prices in 2010 was due to arctic conditions, which left British-grown crops frozen solid and impossible to harvest by machine. Below -4C (24.8F) the sprouts shatter as they come off the stalk and machine tyres are frozen to the ground in their tracks.
"What's positive for consumers is that they've been dropping in price for the past few years and are now the cheapest they've been since 2011."
The figures suggest the overall price of Christmas dinner is also coming down, although beer drinkers are paying more than last year for a six pack.
Matthew Rawson, chairman Of The Brassica Growers Association, warned the cheap prices might not last if farmers cannot make a profit.
"The biggest danger is the lower the price is driven it will see growers leave the market in the future - this will then see demand outstripping supply, hence higher wholesale prices."
And Richard Simkin, who runs Essington Fruit Farm in South Staffordshire, said bad weather can have a knock-on effect on prices over several years.
"If we have a year like 2012, where it seemed to never stop raining, it can ruin the crops. A grower who did not make much money on their sprouts one year might decide not to grow as many the next. And if others do the same that hits the supply.
"It's the same with turkeys. The prices are affected by the costs of feeding them and we had a few years of high cereal prices."
Food prices have come down
BBC News analysed the prices of 18 key items that make up the Christmas dinner, including meat, vegetables, mince pies, wine and crackers.
And while the overall cost has risen from £103 to £138 since 2006, when figures are adjusted for inflation families are paying about the same, or even less for some items.
---
Cost of Christmas food and drink
BBC News asked mysupermarket.co.uk for the cost of 18 of the most popular items on the dinner table at Christmas since 2006. The prices were then weighted for inflation so we could see how much people would have been paying at today's prices.
Item
2006 price
2006 price adjusted for inflation
2015 price
Fresh turkey (4kg/8.8lb)
£23.98
£31.62
£31.54
Gammons and hams (4kg/8.8lb)
£24.24
£31.96
£26.55
Brussels sprouts (1kg/2.2lb)
£2.83
£3.73
£3.59
Carrots (1kg/2.2lb)
£2.17
£2.86
£2.20
Parsnips (1kg/2.2lb)
£0.95
£1.26
£0.90
Potatoes (1kg/2.2lb)
£1.33
£1.75
£2.21
Gravy (average pack)
£0.93
£1.22
£1.81
Cranberry sauce (average jar)
£1.19
£1.57
£1.83
Stuffing (1kg/2.2lb)
£3.88
£5.12
£6.37
Stuffing/dumpling mix (200g/7oz)
£1.14
£1.50
£1.53
Brandy butter (100g/3.5oz)
£0.87
£1.15
£1.25
Mince pies (6 pack)
£1.28
£1.69
£1.90
Christmas crackers (box)
£8.96
£11.82
£8.09
Christmas pudding (average)
£4.73
£6.23
£5.45
Red wine (bottle)
£3.61
£5.58
£5.64
White wine (bottle)
£3.61
£5.56
£5.55
Beer (6 pack)
£4.86
£7.49
£7.18
Whisky (70cl)
£13.18
£20.34
£24.55