Household spend rises to £531 a week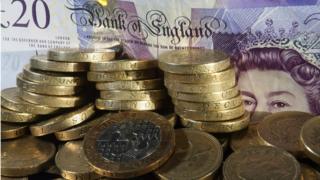 Regional differences in household spending across England on everything from rent to tobacco have been revealed.
The Office for National Statistics said average spending was £531 a week, up from £507 in 2012 and £524 in 2013 after adjusting for inflation.
Londoners spent the most altogether, £616 per household per week between 2012 and 2014.
People in the North East spent the least, a weekly average of £427.
And while Northern Ireland is mid table for spending, it comes out the highest for things like tobacco and clothing.
Beer and Yorkshire
For alcohol and tobacco, the average for the UK is £12.30.
The South East spends the most per week on wine, £4.90, while Yorkshire and the Humber buys the most beer, £2.60 per household per week.
Northern Ireland spends the most in the UK on tobacco at £7.50 a week per households. In England, it's the North West at £5.30.
London spends the least at £3.20 per household per week.
Spending on rents
Rent spending came to £28.70 on average in Northern Ireland, compared with £96.20 for Londoners.
For education, it is people in the East Midlands that spend the most - £17 a week.
The national average on clothing and footwear is £23.20 a week. Northern Ireland tops the UK list at £35.90. In England, it is London on £27.40. The West Midlands spends the least on clothing and footwear in the UK, £19.60 per week.
Recreation and culture results in £64.80 per week spent per household on average. The North East spends the least on books, just 70p per week, while the South West spends the most on their pets, £6.20, compared with just £2.60 in London.
The West Midlands spends the least on this in England at £56.70 a week but Northern Ireland spends the lowest in the UK, £56.50 a week.