Christmas spending: Your stories
Families often feel pressured to spend more than they can afford over the Christmas period, some have told BBC News. But how do different families deal with that pressure to spend?
---
The planner
Samantha Shelford, from Essex, plans for Christmas all year round.
The 30-year-old PA spends £100 on her three-year-old daughter, and then £100 on the rest of the family.
She said: "I don't like to go too over the top at Christmas. But then I think that's generally the case for everybody. After I had my daughter, I developed much more of a shopper-saving mentality.
"I realised I had to get more for my money. I do miss the whole excitement of buying Christmas presents near the date, but it's ultimately not worth it when I think back on how much I used to spend.
"I felt like I had to watch myself a bit money-wise, and I never felt I was giving my friends and family the presents I wanted to buy them because of the cost of things, whereas now I can, because I keep my eye out for the best deals throughout the year.
"Nine times out of ten, I've already planned next Christmas. I buy presents throughout the year when deals come up, and then save that gift to give someone at Christmas. That way, I feel I can get more value for my money."
---
Financial pressures
Maria Amos, from Liverpool, has struggled to meet the financial demands of Christmas. The 54-year-old, who works in catering, found herself unemployed this time last year.
She said: "I didn't buy anyone any presents, but they understood why. I didn't even have money for gas. It was awful.
"The situation for me this year is healthier. I've been out of work for several weeks, but I'm hoping to get a job. I have bought Christmas presents this year, little by little, because I missed last year. I've got six grandchildren, two daughters, and my mum. I've bought them one present each.
"I think Christmas can be a sad time for people like me who have very little money. You do feel pressure to buy gifts - it's advertised on TV. And when I see people through the streets carrying parcels I just get carried away with all kind of emotions.
"It's an expensive time. You can feel like a killjoy if you haven't got anything.
"I do think that the cost of Christmas is disgusting. I was looking at a chicken the other day and it cost £5 - that's a fair chunk out of my wages."
---
'All about the giving'
The Ernest family, from Herefordshire, try to concentrate on the true meaning of Christmas.
Mum Polly, who works as a chef, said last year she bought a lot of presents at an affordable art fair.
She said: "I've got five children so my spending plans involve me hoping for much more than I could ever afford to spend. I won't spend more than 100 per child. That's the top.
"One of my sons wants a PS4, but there's no way that's in my budget. I wouldn't want to afford a PS4. On principle, I wouldn't spend that on a piece of technology that he'd want to be replaced in 18 months by a PS5.
"If they want it, they can save up and get it themselves. I just tend to not listen, and buy them things I want to buy them.
"We try to make it about the giving. It's so easy to get pressurised at Christmas to spend lots of money.
"A way to avoid that is not to watch commercial television. We try to just avoid the external noise, and remember what Christmas is about. It's about us, a family. It's not about getting things."
---
Lighting up the neighbourhood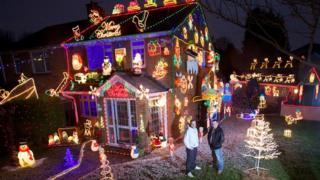 Lee and Paul Brailsford have spent over £10,000 on a lavish Christmas lights display over the years.
The brothers, from Bristol, bought their first set of lights in 1994. Paul said: "It was a Christmas tree silhouette, and we try and keep it lit every year.
"We were inspired to start up a Christmas lights display because when we were kids, our parents used to drive us round to local Christmas lights displays.
"To us, it's something we were brought up with. It's a big family tradition. The big Christmas trees and lights give you a real warm, fuzzy feeling.
"As the display gets better known and grows bigger, people expect more. So we've collectively over the years spent about £10,000 on Christmas lights, and each year a bit more money goes in to it - a few hundred pounds here, a few hundred pounds there.
"This year, we've spent about £900 on lights so far. Since 2012, all the money spent on lights and equipment has been provided by sponsors. Now, the main cost to us is about 12 to 15 days of our time.
"To us, this is our hobby. Some people may think it's a bit mad, but it's at least a good thing that our hobby can raise money for charity."