Man paralysed in screwdriver attack given hospital role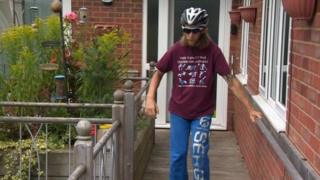 A man who was told he would never walk again has been appointed an ambassador for a rehabilitation hospital after taking unaided steps.
Nick Verron, 31, was attacked with a screwdriver and left with catastrophic brain injuries in Bournemouth in 2009.
His right side was paralysed and he couldn't speak or swallow.
The Royal Buckinghamshire Hospital has appointed him as lead ambassador. He has been using an exoskeleton and will give talks to inspire others.
He said the role included meeting people to give them "hope and determination, to show people that there is life after brain injury, to connect isolated people with all the help out there and generally improve people's lives in creative ways that I couldn't possibly do alone".
Using the Ekso GT Bionic Suit has meant Mr Verron has taken steps unaided.
He said: "The therapy I am getting is beyond my wildest dreams. The suit was largely responsible for how I was able to walk unaided."
Mr Verron, who lives in Aylesbury, took part in the Para Tri at Dorney Lake, Windsor, in August, raising £3,000.