Douglas Carswell: Grandparents 'need more of a say' in adoptions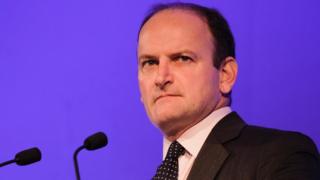 Nothing can be as emotive as a child being removed from its parents by the state. Although it is an unfortunate necessity sometimes, forced adoptions have come in for heavy criticism from Clacton MP Douglas Carswell.
The UKIP MP has called for special guardianship orders to be used more widely, which would allow more grandparents to look after children.
"Family courts are presiding over monstrous injustices," the MP said when he called for the opening up of family courts in a Westminster Hall debate.
Mr Carswell also made the point that some people manage the system better than others.
"It seems that articulate, highly-educated people who have access to information are able to fight off the system, but people who do not have access to information and are not as eloquent as lawyers tend to be trampled," he said.
"Many of the most tragic cases I have come across in Clacton involve people whose love for their grandchildren is as strong as anyone's, but who are just not very articulate and are therefore trampled over by the monstrously unjust and unfair system."
Lucy Allan, the Conservative MP for Telford, agreed, saying: "This is an issue that is long overdue for debate in this House."
The interest of the child
Edward Timpson, the minister for children and families, was not unsympathetic.
He said it was an important and sensitive area and set out the principle that the system of family justice in England was based on the premise that children live with their family wherever possible.
He said the key was what was in the best interest of the child, and that local authorities must consider placing a child with relatives - including grandparents.
"Where it is decided that it is not possible for children to remain with their parents, the law is clear that local authorities must consider placing a child with relatives, including grandparents and friends, before considering other permanency options," he said.
He reminded Mr Carswell that the number of special guardianship orders have doubled since they were introduced in 2005.
He concluded: "The president of the family division is consulting on the matter, and we look forward to his response, so that we may see what more we can do to ensure confidence in the family justice system."
Many grandparents may be happy to hear that.